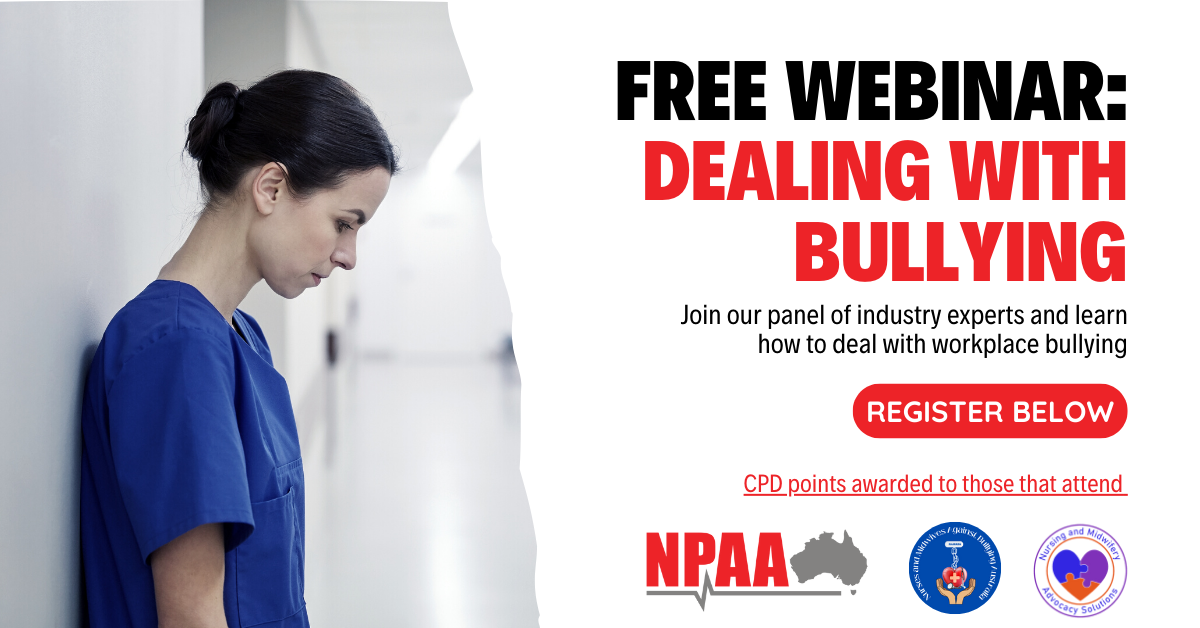 Think your friends would be interested too? share it with them through the links below:
Register here to get access to our recorded webinar
The Forum is hosted by an expert panel discussing the current issues nurses, midwives and healthcare workers face in regards to bullying behaviour in the workplace and how to deal with it.
Structure of panel:
Opening speech
Speakers will each say their parts
Key questions asked by nurses will be answered from a previous panel on bullying
Q&A & opportunity to express stories
Speaker Content;
Defining what bullying is and what your rights are.
What is unreasonable management action (If managers are being accused of bullying, where is the line of bullying and performance management?)
How do you performance manage someone, not as a punitive issue, professional guidelines.
Answers to key questions from a previous bullying panel.
Meet our expert speaking panel:
Margaret Gilbert
President of the NPAA
Margaret is the
President of the NPAA and will be the chair of the panel, she is
a Duty Nurse Manager at The Prince Charles Hospital and has been in this position since 2007. During her career, she has worked as a Duty Nurse Manager, Nurse Unit Manager and has had Nursing Director roles in both the public and private sector.
Margaret has fought for and continues to fight for NPAA's right to represent you in the workplace, including in matters before the Industrial Relations Commission.
Vicky Stewart
Consultant Nursing and Midwifery Advocacy Solutions & Administrator/Ground Expert NAMABA
Vicky has been working in as an EN since 1987 in both public and private hospitals, and has experience working in Gynaecology/Obstetrics, general operating theatres, day surgery and endoscopy units, specialising in Peri-operative environment. In 1997 she became a workplace activist after increasing workloads and conflict in the workplace, and has advised, represented and advocated for members going through workplace issue processes.
Chris Dekker
Senior Case Manager, Legal Liaison Officer
Chris leads a team of case managers advocating for members with all manners of issues. From providing tailored industrial relations advice, to commencing disputes with employers, and regularly appearing before industrial tribunals including the FWC and QIRC, as well as disciplinary and oversight bodies such as AHPRA, he has a wealth of knowledge on workplace rights and regulations.
Terry Collins
Case Manager Strategy Consultant
Terry has 30 years' investigation experience from working in law enforcement and government/regulatory agencies. He has worked in two Queensland Government ethical standards/integrity units – the Department of Communities, Child Safety and Disability Services (DCCSDS), and the Metro North Hospital and Health Service (MNHHS). In these roles he has investigated various bullying and harassment matters. Terry provides strategy advice to the Red Union case managers on matters involving disciplinary actions against their members, with a focus on dissecting flawed investigation processes.
Questions and Answers
1. Will we be able to ask the nurses, professionals and legal expertise questions? Absolutely, we want this to be an interactive experience where questions can be asked and answered. You will also have the opportunity to share any stories you may have from your own experience.
2. How long will the webinar go for? The webinar will go for approximately 1 hour, however we have allowed time for it to go over this as we are expecting quite a few questions.
3. Will I receive CPD points for attending? Yes, once you have registered you will receive an email containing a link to the recording, and a form for your CPD Certificate.

How will we benefit you?
Support when you need it: NPAQ provides professional indemnity insurance, along with personalised advice and legal assistance, to quickly resolve any workplace issues.
Lower fees without the politics: Not one cent of your hard-earned membership money goes to any political party or cause. 100% goes to providing protection and advancement to you and your profession.
improved working conditions: NPAQ helps and advises working nurses to openly negotiate enterprise agreements, with a focus on practical outcomes in each workplace.
Putting Nurses' interests first: Focusing on patient care – not on paperwork. By reducing administration, we aim to let nurses 'nurse again'.
Any savings should be passed on as pay rises to nurses not funding administration/HR.
A choice in representation: Only nurses – not the government nor your employer – should choose who represents and protects nurses.
This means all NPAQ nurses – not union officials – have a real say in the running of the health system.
Here's what our members are saying:
ANNA
⭐⭐⭐⭐⭐
Darren was very supportive and provided me with appropriate advice to navigate my employment contract from a non-adversity approach. This enabled me to approach my employer while staying safe from possible repercussions as it was managed in a delicate manner. Without Darren's support and advice I wouldn't have been able to manage the matter or achieve an outcome that was in my favour.
DEBBIE R
⭐⭐⭐⭐⭐
Please seriously consider this service. I have called upon them twice in recent years and have found the advice & support above reproach. This team is caring, understanding and professional in dealing with the concerns I submitted to them until each case was resolved to my utmost satisfaction. God Bless you all.
KARYN D
⭐⭐⭐⭐⭐
Thank you for the support NPAQ. I have been a nurse and union member for over 20 years and have never had such support. The response to my request for representation was great. Right from the beginning, Ben was supportive. He called me multiple times and emailed me relevant information and called after the meeting I had to attend. He ensured I was okay and needed anything, offered to go through mock scenarios if I needed too, and did everything he could to alleviate my anxiety. My meeting went smoothly with a good outcome. Thank you Ben...you're a legend!
ANNE CAMERON
⭐⭐⭐⭐⭐
I was feeling vulnerable but at each step Emilie was there when I made contact with her. Prior to the meeting she was very reassuring and supportive. I definitely was not my normal self and her reassurances, kindness and professionalism were outstanding. The notes on what to do and what not to do we're an excellent guideline. In closing I have found the support of all involved in NPAQ kind and appropriately reassuring. Many thanks.
PEITA F
⭐⭐⭐⭐⭐
I would like to express my deep gratitude to Tracy Tully for the support she has given me during a difficult and sensitive experience. The non-judgemental, professional, emotional support and guidance was more than I expected. Tracy went above and beyond the call of duty. Thanks to Tracy I received a great outcome and feel I can move forward in my career with greater confidence and knowledge. It is wonderful to have the knowledge as a professional that I am supported and cared for by NPAQ. Thank you so very much.
Not already a member?
Join us and let us support you in your job.
The button below will take you to our homepage where you can find the appropriate association for you and join.
Alternatively, if you'd like to book a call with our member enquiry team to have any questions you may have answered or to learn more information, you can book a date and time that best suits you below: